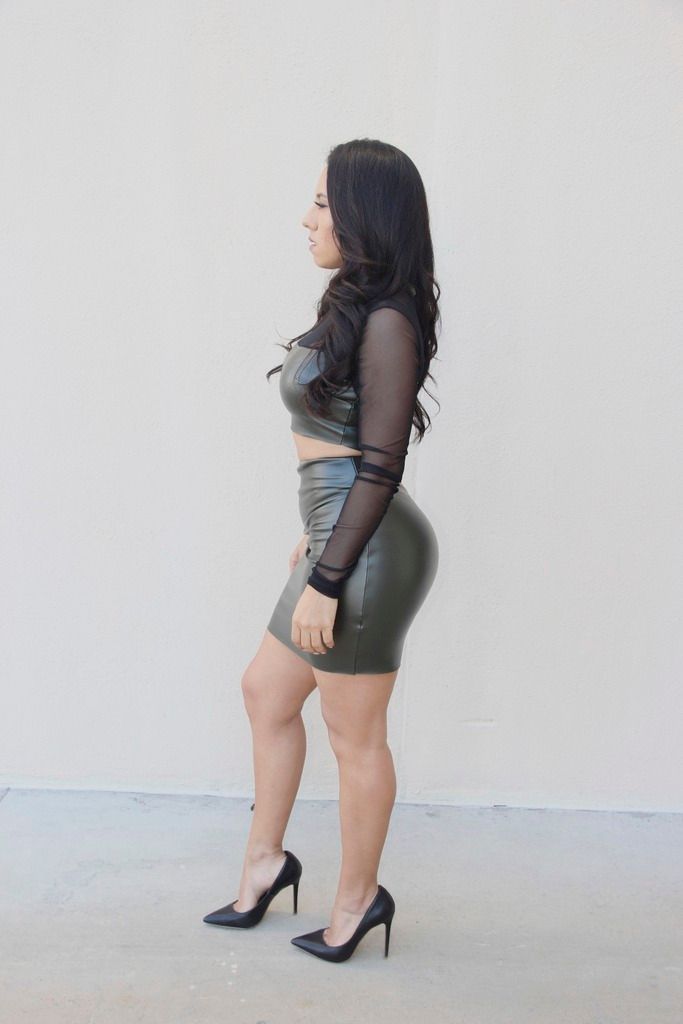 Hello Everyone,
I'M BAAAACK!!! I know, I know that I have been a terrible blogger. I need to really work on my time management by just dedicating some days out of the week to just blogging and filming. Sometimes it gets very difficult because I have so many things that need my attention. I'm here now and I'm ready to get the ball rolling. What a nice surprise to find that my views per posts have tripled in my absence (screams). The followers don't match the amount of views, but it's all gravy. Honestly I couldn't be happier. I have to make myself accountable and follow through with constant posts.
Some of the posts that you will see in the next few days have already made it on to
Instagram
and
Youtube
(go check them out if you haven't already). This first outfit was a set that I got from
HotMiamiStyles.com
. The faux leather, olive skirt fit perfectly. Those kind of materials usually give me a hard time since they have zero stretch. This one, however, had some stretch allowing me to move more freely. The top was composed of the same material with some sheer panels. Heels as usual are from LolaShoetique.com . Have you ever shopped at LolaShotique? What's your go to shoe store?
Catch you on the next post,
XO ... Cari
Hola a todos,
Ya REGRESE de mi larga ausencia. Yo se que e sido una blogera terrible. Deberás que tengo que trabajar mejor con mi tiempo y apartar algunos días para dedicarlos a mi blog y a grabar para mi canal. Se también que tengo que ser mas consistente con mis blogs. Pero ya no ay mas llantos que ya estoy aquí. Lista para trabajar y para traerles contenido. Para mi sorpresa, mire que ahora tengo mas personas mirando mis blogs que antes, los números incrementaron bastante. Eso me alegra.
Algunos de los blogs que miraras en los siguientes días ya fueron subidos a mi Instagram y a mi Youtube (ve a verlos si no los as mirado). Este atuendo es de HotMiamistyles.com , el set estrecha ya que muchos del mismo material no dejen ni caminar. Pero este acomoda perfectamente y te puedes mover con facilidad. Los zapatos son del mismo lugar donde siempre obtengo mis zapatos, Lolashoetique.com
Tienes alguna tienda de zapatillas favorita?
Hasta la próxima,
Besos.....Cari